Just Like Home
Whether you're from the city or travelled for miles, we'd love to meet you and help make your experience here an enjoyable one. Read on to find out more about our church!
Our Sunday gathering generally last for about 90 minutes. It begins with live worship for about 30 minutes. You are welcome to join in as the lyrics of the songs will be displayed on screen for everyone.
We will then take a few minutes to welcome new friends and visitors followed by church offering, announcements of any upcoming events and then an inspirational and faith filled message that lasts for about 40 minutes. The service closes with prayer and a final song.
Our Collective Kids programme runs concurrently at the 1st floor of the church office building. It is a fun-filled programme tailored for kids aged 3-12 and it ends at the same time as the main service.
Connect
You're important to us, so please give us the opportunity to meet and connect with you. We have prepared the Welcome Lounge just for you so that we can get to know one another over some light refreshments.
We can't wait to meet you!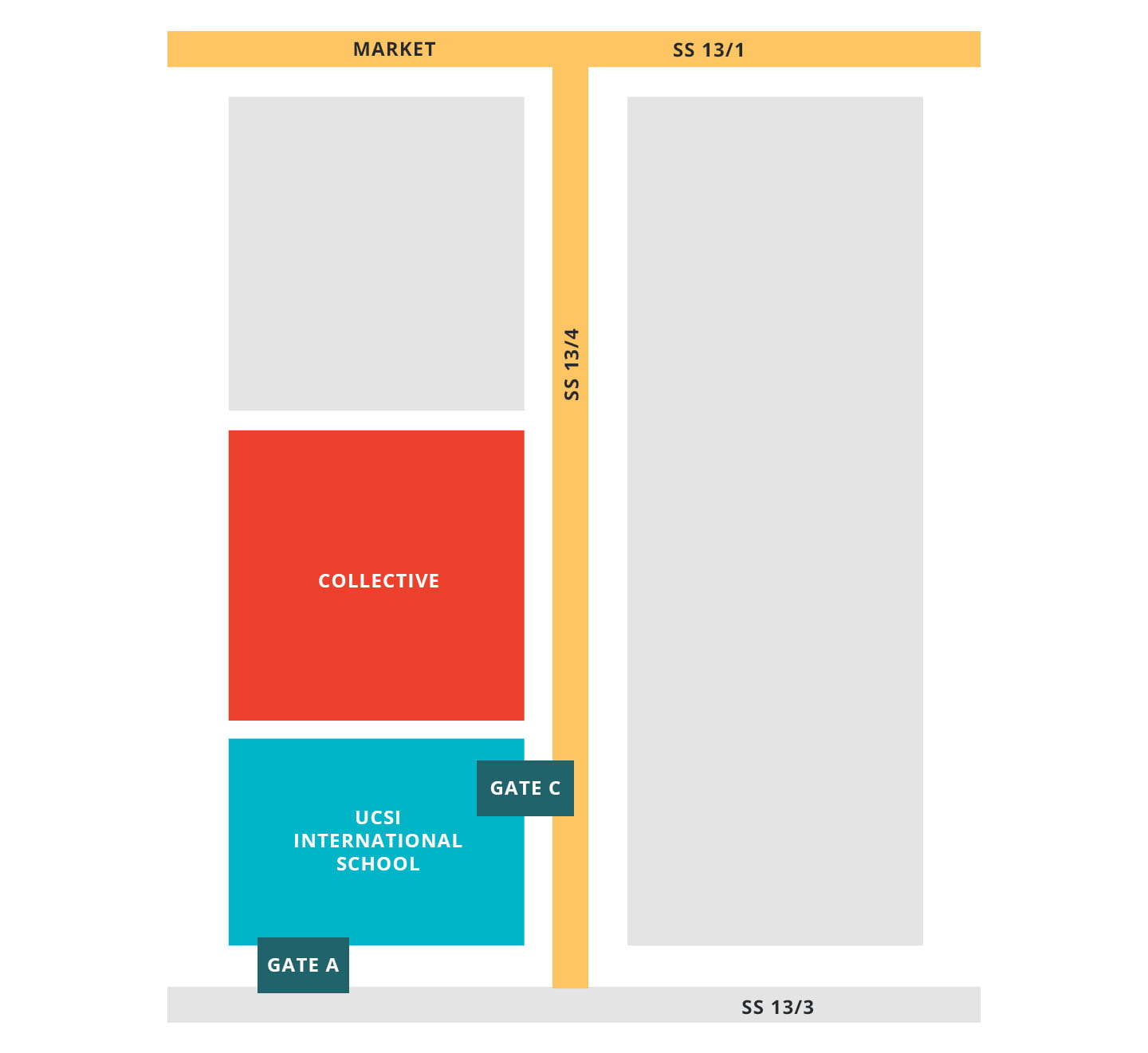 Church compound
This section is prioritized on a first come first serve basis for families with children, pregnant mothers and the disabled. Available spaces will be released by 10:00am.
---
UCSI International School
There are limited parking spaces available on a first come first served basis. Enter through Gate A and Exit through Gate C. Please remove your vehicle before 12:30pm to avoid being locked in the school compound.
---
Outside church compound & market area
There's ample spaces outside the church compound and market area. Should you park at the Market Area, please display your contact number visibly on the dashboard and remove your vehicle before 12:30pm to avoid disrupting the market vendors.
Do you have activities for children?
We certainly do! Collective Kids runs concurrently with the main service on Sunday. This is for children aged 3-12. Head over to the 1st floor of the church office building, register and check-in your child at the registration desk. Once check in is complete, parents are free to join the main service.
The kid's registration desk opens 30 minutes before the start of service and children must be picked up immediately after service.
For parents with infants aged 0-2, please use the Nursery which is located next to the Auditorium. It is equipped with baby changing facilities and nursing rooms for privacy. If you have any enquiries, drop us a line at kids@collective.my or call +603-56387573.
Getting here using public transport
The most convenient way to get to Collective by public transport is to hop on a train on the the Kelana Jaya LRT Line and alight at either the SS15 or SS18 station. From here, you can get a Grab to church which will cost about RM5-7. Unfortunately, there are no buses that come by the vicinity of the church.
Does the church provide transport?
Unfortunately, we don't at the moment. However, we are always looking at ways to serve our community better, so do check back this space for updates.
Who do I go to if I need assistance?
We've got you covered at The Concierge. If you have any questions, inquiries or require assistance, please head on over to The Concierge at The Lobby. The counter opens 30 minutes before and after service. If outside of these hours, please call +603-56387573.